1. Broadlink & Alexa: Clone Your Remotes for Blind Motors, TV, Projectors, Lighting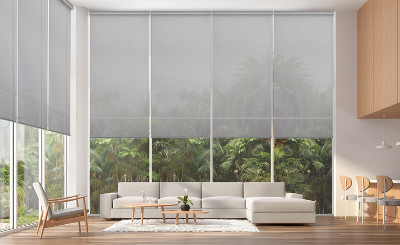 The Broadlink™ RM4 Pro is a smart home controller that can 'learn' (clone) TV remote functions, blackout blind motors, and lighting controls. You can also add Alexa voice control with the Broadlink skill.
Our sister companies have been producing custom blinds and shades for many years, and the Broadlink controller can control shade motors, TV and audio with a phone app (or Alexa).
We also wanted the controller to be capable of operating not just our blind motors, but also our electric low-voltage window openers, CurtainCloser™ drapery and curtain kits, ShadeSlider™ skylight shades, and other devices.
In the picture above, we see a typical room layout where blind control would be useful, if you wanted to watch TV. With a single voice command, Alexa will lower the shades, turn the TV on, and switch to your favorite channel.
Here is a short video of the 4K projector start-up sequence (opens in new tab):
If you would like to see how this is done, please see our article series:
Introduction: controlling TV and blind motors with Broadlink hub and Alexa
2. Z-Wave Group Controller for Blinds & Shades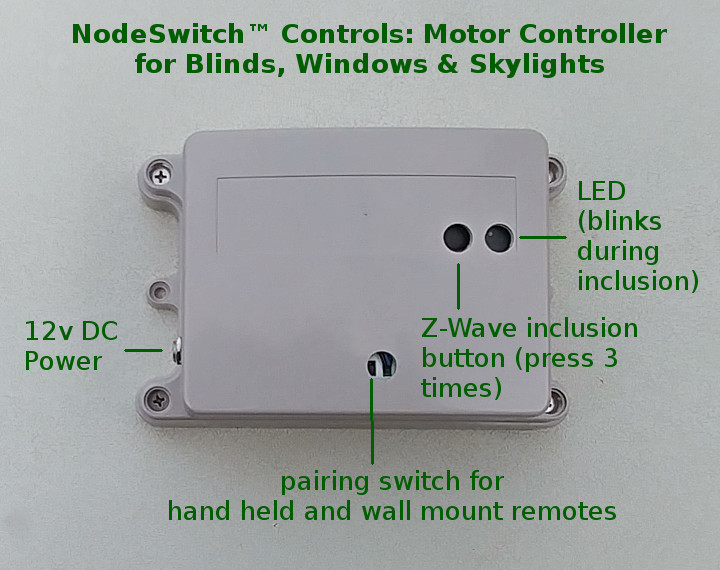 We have developed the Zwave motor controller using the well supported Z-Wave® digital radio protocol.
We feel this allows much more flexibility when choosing the type of hub you will use, and it can also help to keep your automation costs low.
This unit can be mounted inside a closet, or on a panel in the basement, or anywhere that is convenient (the radio signal will pass through walls).
It has been designed with ease-of-use in mind; you can quickly pair it with any of our hand-held or wall mount radio remotes (multiple control locations allowed).
It will also quickly include itself into your Z-Wave network with 3 quick inclusion button presses as soon as it powers up, which is all you have to do to see the controls (UP/DOWN/STOP) appear in your Z-Wave app or hub interface.
You can then create various different "scenes" using Z-wave sensors, such as temperature or light sensitive blinds and window/skylight openers.
Our hand held and wall mount remote controls will also work with this unit, and you can have as many of those as you need (supports multiple control points). For more information, please see our article series:
Introduction: controlling blinds, skylights, window openers with Z-Wave
3. Zigbee Motor Control of Blinds, Shades and Window Openers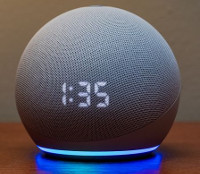 Some Alexa models contain a Zigbee controller that can be used with our group transmitter; you would need 3 dry contact momentary relays to interface with our group transmitter.
You can see how we connect the group transmitter to 3 independant dry contact relays by examining the WiFi example below, where we use smart components (the UNI) from Shelly to control our group transmitter.
4. WiFi Motor Control of Blinds, Shades and Window Openers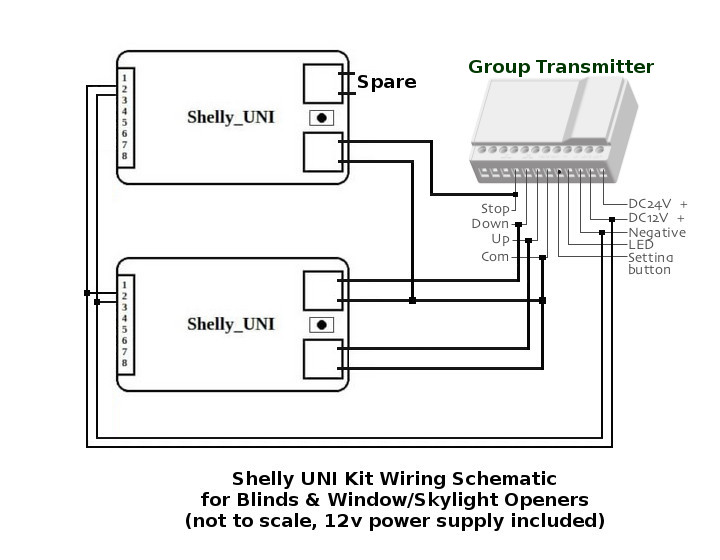 The Shelly software is one of the best apps out there, and there is also an API that can control all the functionality.
If you're a fan of Tasmota or ESP-Home, please note that Shelly units can be re-flashed to use either of these excellent programs.
Introduction: controlling blinds, skylights, window openers with WiFi
Need More Info? Contact Us ...
You can purchase the group controller, along with motors for blinds and window openers, and our control products in our DIY online automation store.
We sincerely hope you enjoy our advanced technology products; if you have any questions, please contact us at any time!
Adrian Biffen
Senior Partner
NodeSwitch™ Controls
Quick Links
1. Controlling TV and blind motors with Broadlink hub and Alexa
2. Controlling blinds, skylights, window openers with Z-Wave