The LG® 4K TV: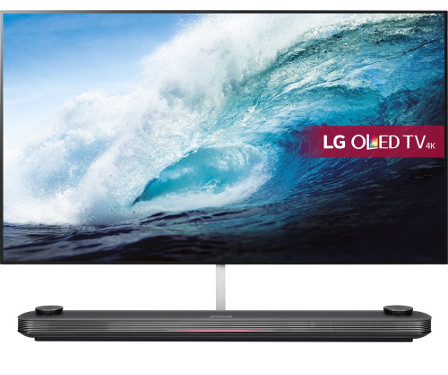 The 4k LG flat screen OLED TV is a great choice for a 4K TV.
We purchased a 65 inch LG 4k TV, and we also purchased the 4k projector you see below.
My old Toshiba was still working well after about 30 years, but we decided it was time for an upgrade. This article applies to either choice, but the focus of this article is on the projector.
We have been fans of LG for quite some time, since they were one of the first manufacturers to produce OLED screens.
We unpacked the box, fastened it on the wall over our fireplace, and we were very pleased to see the gorgeous 4k picture. We made no adjustments to the picture as it already seemed perfect to us.
The Benq® HT 3550 4K Projector: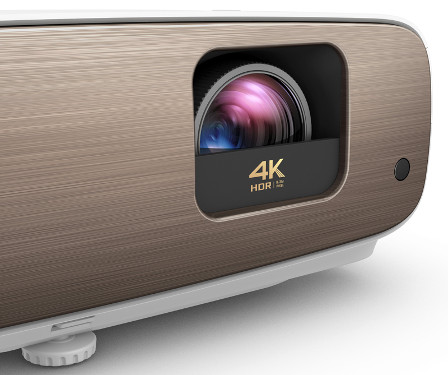 The Benq HT3550 projector is a great choice for a 4K projector, if you're looking at the market for a unit with this resolution. Please keep in mind that everything in this article would also apply to a large flat screen TV.
We have been using Benq projectors for many years of great viewing pleasure, upgrading every few years to the latest model. This is our 5th unit from Benq, and it certainly does not disappoint.
We unpacked the box, placed it on our coffee table in the same position as our previous unit, and voila, we were suddenly presented with a gorgeous 4k picture. We adjusted the position of the projector slightly to fill the 10 foot screen, and it has never been moved since.
We did not adjust the color gamut at all because in cinema mode we found that the picture was essentially perfect. This was a thoroughly pleasant surprise, considering how we have had to wrestle with other components!
The Broadlink® RM4 Pro Emitter Transmits IR and RF Signals: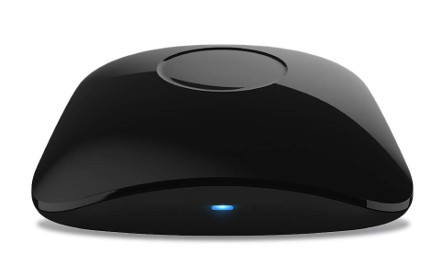 This unit is the newest version of the first controllers that can "learn" RF radio commands (and IR commands).
Many controllers can store IR commands that are typically used for TV and audio system control, but this is one of the few units that can learn RF remote control codes.
This means it can directly control our digital radio motors, including our blind and shade motors, window and skylight openers, our drapery motors, and many other devices, such as fans, LED lighting, etc.
It also has a bonus feature in the app that can control the BLE Bluetooth Roku remote.
The Alexa® Echo 4th Generation Voice Control System With Zigbee:
We have been using the Alexa voice control system for many years because it really is very convenient, especially when you have a lot of things to control, such as you find in a media room:
Blackout blinds (on 2 sides of the room)
Projector screen (on the 3rd side of the room)
Powering up the projector, with safe shutdown
Powering up the Denon AVR audio system
Selecting the correct HDMI input on the AVR
Selecting the appropriate sound mode & level
Amazon has introduced a Zigbee radio in this 4th generation product, which will probably have a significant impact on the home automation market.
Using the Broadlink emitter (below) is very easy; it involves downloading a Broadlink SKILL to the Alexa app on your phone or tablet.
Please note that this project does not use the Zigbee radio. Any of the Alexa voice control products can be used to control your media room with the Broadlink emitter, including the Echo Dot, Echo Show, Echo Studio, Echo Flex, Echo Auto, etc.
The Roku® HDMI Streaming Stick Plus: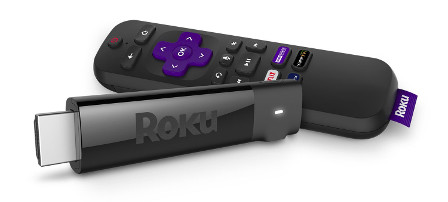 The Roku Streaming Stick Plus is one of the best units for streaming content. We have tried numerous streaming solutions, and this unit has performed flawlessly.
Having sailed for many years, we are big fans of the America's Cup racing that has been taking place in Auckland this year. The AC75 monohull sailboats are capable of speeds approaching 60 mph, and we have been treated to 'front row seating' on our large screen @ 4K resolution, using this streamer!
The Denon® AVR S750H Audio-Visual Receiver: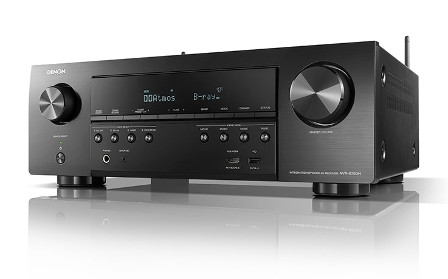 This Denon unit plays an important role in this project because it not only controls the audio for our Dolby 7.1 system, it also controls which HDMI input has been selected.
You will also discover that the Roku streaming stick requires HDCP 2.2 copy protection for 4K streaming, and this Denon unit is capable of doing that.
We had to replace our existing Sony AVR audio unit because it could not support 4K via the HDMI inputs.
We also like the web interface that allows us to rename the various HDMI inputs with labels that make sense to us, such as ROKU, CABLE, LAPTOP, BLURAY.
Summary:
Please Note: This article series covers the use of the newer Broadlink RM4 Pro unit; it does not cover the older RM Pro unit (which will also work).
These articles will provide you with step-by-step instructions on how to integrate the Broadlink RM4 Pro with Alexa.
You can set up a process for a home theater system in a media room - dim the lights, close blackout blinds, deploy projector screen, turn projector on, activate audio system, select Acorn streaming ... with a single voice command such as "ROKU ON".
Adding Devices to Your WiFi Network Router: FIXED IP ADDRESSES:
One other important point is that the normal process of connecting devices to your router uses DHCP, which is essentially a method of AUTOMATICALLY assigning IP addresses.
The problem with this is that the DHCP system will not always assign the same IP address on your local wifi network, which can cause problems. Most routers allow a DHCP bypass, so that a device on your local wifi network always has the same IP address. Please contact your router support people if you don't know how to do this!
We were usin an Asus RT-AC66U router, but it died, so we installed a new Asus RT-AX55 MESH router (WiFi 6). It has about 30 devices connected to it, and we seemed to be having a few memory problems with it, requiring the occasional reboot.
I like the Asus router interface and I did not want to give that up, so we went with Asus again, even though the router had died (we have replaced 3 that have died). Motorized blackout blinds, projectors, audio receivers with 9 speakers, RGB lighting, Roku streaming sticks and many other devices are functioning properly, and with Alexa too.
Buy The RF-IR Hub In Our Online Store
We have the excellent BroadLink emitter. You will have direct control over our blind motors and window/skylight openers.
You can purchase these products in our DIY online automation store.
We sincerely hope you enjoy our advanced technology products; if you have any questions, please feel free to contact us at any time!
Adrian Biffen
Senior Tech
NodeSwitch Controls
Articles in this series:
Part 1: Benq + Broadlink + Alexa + Roku + Denon: Introduction (You are here)
Part 2: Download the Broadlink App and Add the Broadlink Emitter
Part 3: Clone an RF Remote Control Button to the Broadlink Emitter
Part 4: Clone an IR Remote Control Button to the Broadlink Emitter
Part 5: Download the Alexa App and Install the Broadlink Skill
Part 6: Create Single Routines with Alexa App: BLINDS CLOSE