Z-Wave & WiFi Group Control: Z-Wave Quick Start Procedure
As mentioned in Part 1 of this article series, we learned how to pair and clone your remote controls to the zwave group transmitter.
If you haven't yet assigned your remotes (and therefore your radio motors) to the controller, please see Part 1: Cloning (aka Pairing) Motor Channels that explains how to do this. This article will explain how to include your zwave controller with the zwave hub.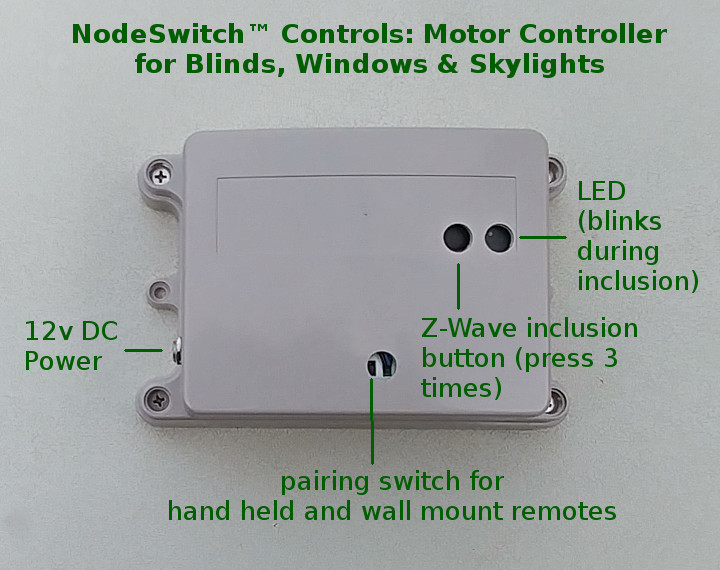 Referring to the pictue above, please note the "inclusion" button and the LED. The process of inclusion with your Z-wave hub is not complicated, and can be summarized with just 2 statements:
Put your Z-wave hub into "inclusion" mode, ready to accept and configure a new Zwave device
Press the button on the Z-wave motor controller 3 successive times to start the inclusion mode (LED starts blinking)
If the LED (see picture above) does not start blinking, you may not be pressing the inclusion button quickly enough, so try it again. We used the eraser on one end of a pencil to press the switch (it does provide a tactile feedback CLICK).
Here is a series of screen captures of our Veralite web server screen, showing what the inclusion process looks like, once the new Zwave device has been accepted. Every hub is different, but the process will be similar; please refer to your hub manual.
1. Start the process by selecting "add device":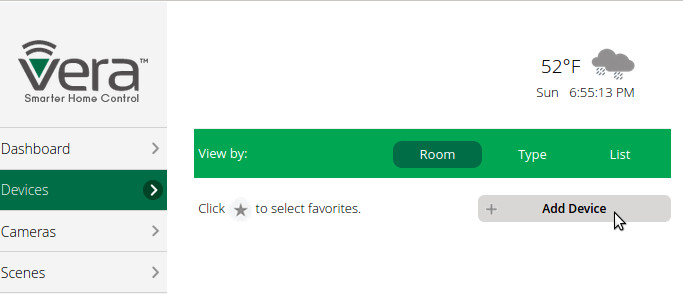 ---
2. Select "Generic Zwave Device" as the device type: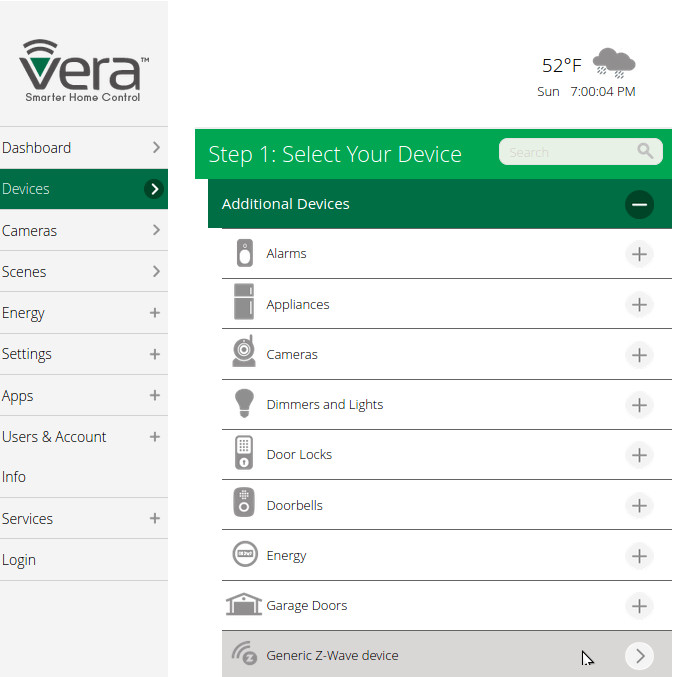 ---
3. Follow the instructions for the inclusion process (they call it "pairing"):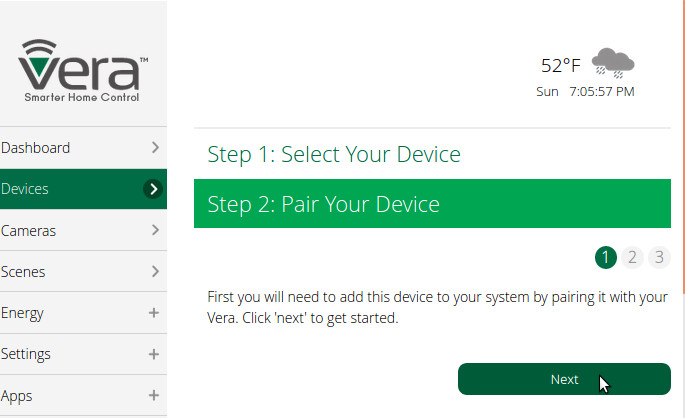 ---
4. Here the controller has been detected (we had already pressed the inclusion button 3 times), and we gave it a name and room: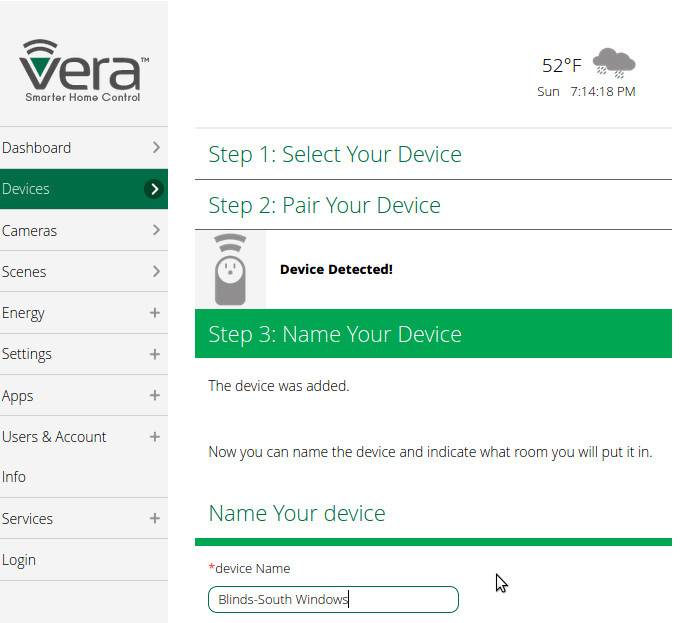 ---
5. This is how the switches show up in Vera. The first one we named is actually redundant and does not need to be carried forward onto the dashboard (or however your final interface looks):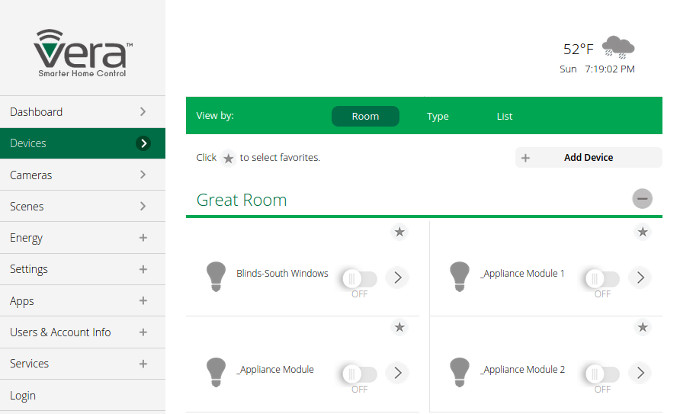 The 3 switches we are interested in are labeled _Appliance Module, _Appliance Module 1, _Appliance Module 2. These can be renamed to STOP, OPEN, and CLOSE.
When you activate these switches, you will see them turn on momentarily, then turn off. These actions trigger the radio signals that control the motors, and you should see them turn on to deploy/retract the blinds, or open/close the drapes, or open/close the windows or skylights.
A Word About Digital Radio Signal Range
We have tested a single installation here with about 60 feet of range with the Zwave hub on one floor and the controller on a second floor, with about 4 rooms in between (typical wood frame/sheetrock home construction).
It is important to understand that the radio signal that is transmitted from the controller to the motor is much more powerful than the Zwave signal - it will reach anywhere in a typical home, so it's ok to put the controller close to the Zwave hub and let the direct motor control signal do the heavy lifting.
Also, keep in mind that most Zwave devices are also 'signal forwarders' (including the unit in our controller) so adding more devices in your home should improve the Zwave range results.
If you are dealing with a concrete or cinder block structure, please note that your radio signals will not have as much range.
Purchase This Unit in Our Online Store
You can purchase our Zwave group controller for blinds and window openers, and our other control products in our online DIY automation store.
Adrian Biffen
Senior Partner
NodeSwitch™ Controls
We sincerely hope you enjoy our advanced technology products; if you have any questions, please contact us at any time!
Z-Wave Controller Article Series
Part 1: Z-Wave Group Control of Blind Motors: Cloning Remotes
Part 2: Z-Wave Blind Control: Cloning Motor Channels (you are here)