Z-Wave Control of Motors: Introduction
We have 2 methods of controlling our window actuator and blind motors with Z-Wave: Group Transmitter VS Wired Switch. The following table explains the difference between the 2 systems:
| Feature | Group Transmitter | Wired Switch |
| --- | --- | --- |
| Wall Mount & Handheld Radio Remotes | Yes, multiple control locations also allowed | No |
| Unified Enclosure | Yes, plug and play, after inclusion | No, additional wiring required. |
| Extended Range | Yes, will reach anywhere in a typical home | No, Z-wave struggles to reach all parts of a typical home, but improves as you add more Zwave devices due to signal forwarding capabilities (mesh). |
This is part 1 of the instructions for our Z-Wave combination of these 2 components:
The Z-Wave (DCC-ZW-12MT) relay module with 3 independant controllable relays.
The wired wall switch (DCC-1W-12-24) for DC reversible motors that interfaces with the above relay module.
In order to produce a functioning unit for motor control, you need to be able to do some wiring to connect these units with your window opener or blind motors. If you prefer a wireless system that can also use our hand-held and wall mount wireless remote controls, please see our home page for the wireless "plug and play" controller.
Here is a schematic of the Z-Wave 3 relay module (DCC-ZW-12MT), configured as a 3 bay garage door opener: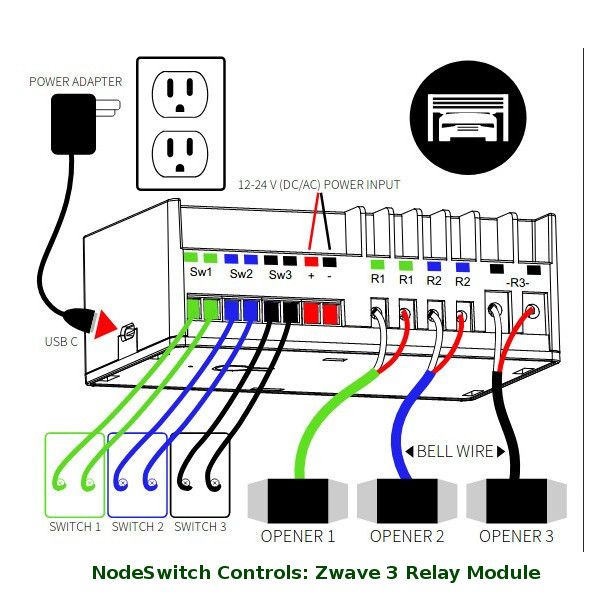 Here is the wired wall switch for reversing DC motors, with relay interface (DCC-1W-12-24):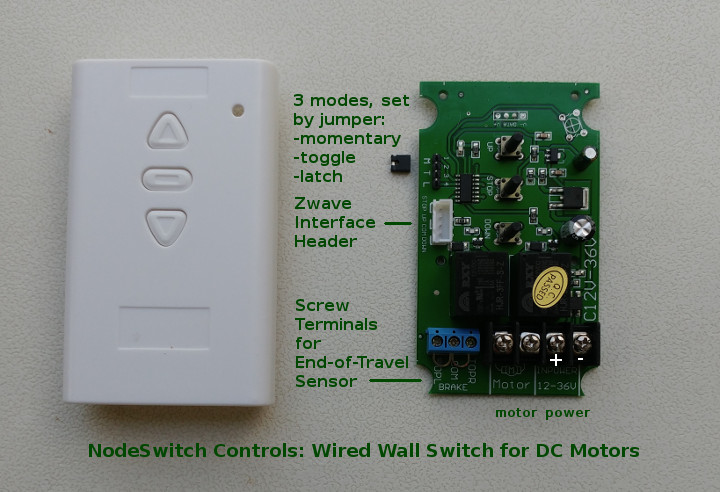 Please note that the end of travel (marked as "brake") mechanism is not normally used as our motors have end-of-travel sensors built into them.
Z-Wave Interface Connector & Mode Switch Jumper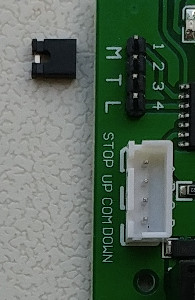 This is a close-up of the switch mode jumper and interface connector. If you are using the interface capability of the wired wall switch, the jumper should be set for "momentary" mode (top 2 pins marked with M on mode header).
The 3 different modes of operation are as follows:
Momentary (M): Press and hold OPEN or CLOSE button until desired deployment is reached.
Toggle (T): Press and release OPEN or CLOSE button until desired deployment is reached. Press and release same button to STOP.
Latch (L): Press and release OPEN or CLOSE button until desired deployment is reached. Press STOP button to STOP.
Please see part 2 in this article series for Z-wave interface wiring.
These products can be used with any of our motors for blinds, drapes, skylight shades and window/skylight openers, including our CurtainCloser™, TrackGlider™, and ShadeSlider™ systems.
A Word About Digital Radio Signal Range
We have tested a single installation here with about 50 feet of range with the Zwave hub on the same floor as the controller, with about 3 rooms in between (typical wood frame/sheetrock home construction).
It is important to understand that the Zwave radio signal that is transmitted from your Zwave hub to the relay module is not as powerful as our wireless controller, so it is a good idea to place your Zwave hub in a central location in your home or office.
Also, keep in mind that most Zwave devices are also 'signal forwarders' (including the unit in our relay module) so adding more devices in your home should improve the Zwave range results.
If you are dealing with a concrete or cinder block structure, please note that your radio signals will not have as much range.
Purchase These Units in Our Online Store
You can purchase our Z-Wave group controller for blinds and window openers, and our other control products in our online DIY automation store at our sister company.
Adrian Biffen
Senior Partner
NodeSwitch™ Controls
We sincerely hope you enjoy our advanced technology products; if you have any questions, please contact us at any time!
Z-Wave Controller Article Series
Part 1: Z-Wave Motor Control for Windows, Skylights and Blinds: Introduction (you are here)
Part 2: Z-Wave Motor Control: Wiring the Interface, Setting Up Your Zwave Hub