Z-Wave & WiFi Group Control: Built-in Web Server: Group Configuration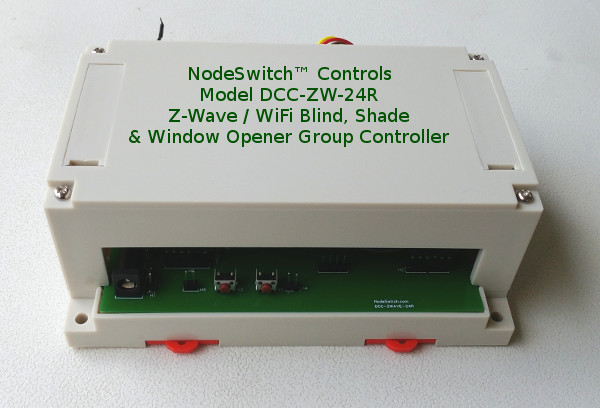 In Part 4 had a look at the home page that appears after the web server is fired up.
One of the distinct advantages of having a built-in web server is the ability to control many different operational parameters.
As part of the original design concept, we wanted our customers to be able to use our Unity controller series for many types of situations that involve low voltage reversible DC motors.
Although our primary business model has been built around motorized blinds, we have other products that use reversible motors, and we wanted to make sure these can also be operated by Zwave and WiFi.
Some of the other systems we produce:
Motorized Window Openers (these are ADA compliant)
Motorized Skylight Openers (can be counter-balanced)
Motorized ShadeSlider™ (for skylights and bottom-up windows)
Motorized CurtainCloser™ (for center pull and right/left pull)
We made almost every aspect of the motor customizable, as you can see from the options below ...
Customizable Motor Control Fits Many Applications
CONFIGURE MOTOR GROUP - Custom Settings

Your IP is 192.168.1.7
Please adjust your settings, then press Update Group Settings.
Please note that settings marked with asterisk* apply to WiFi mode only.

#
Parameter
Comment
1
Control Mode:
Choose between Z-Wave or WiFi
2
*Full Excursion Time (OPEN):
seconds

Opening time can be
3
*Full Excursion Time (CLOSE):
seconds

different from closing time
4
Browser Tab Title:
(tip: keep it short)

See #4 in picture below
5
*Page Title:


See #5 in picture below
6
Group Title:


See #6 in picture below
7
Motor Name:
(tip: keep it short)

See #7 in picture below
8
0% Position:
(tip: keep it short)

See #8 in picture below
9
100% Position:
(tip: keep it short)

See #9 in picture below
10
Moving to 100% Position:
(tip: keep it short)

See #10 in picture below
11
Moving to 0% Position:
(tip: keep it short)

See #11 in picture below
12
*Detents:
discrete slider movements
13
*Email Event:
Choose None, All, Toward 100%, Toward 0%
14
*Email Address 1:


enter valid email address
15
*Email Address 2:


2nd address, could be email-to-text
16
*Send Boot Email:
get boot email with IP address

Copyright © 2017 - NodeSwitch Controls
Slider For Blinds & Window/Skylight Opener (Key from table above)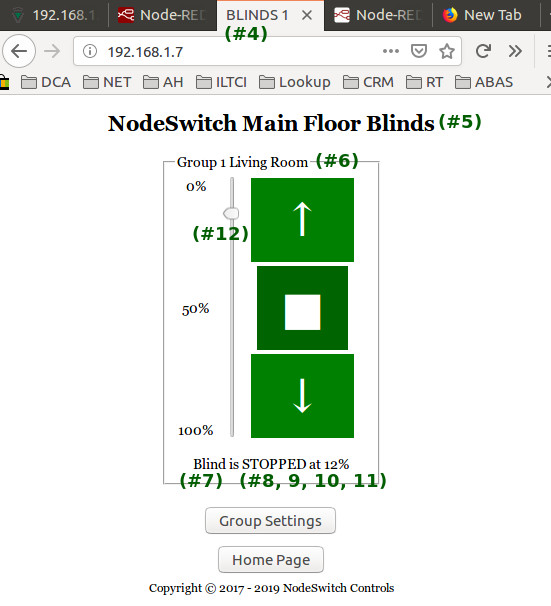 Purchase This Unit in Our Online Store
You can purchase our Unity group controller for blinds and window openers, and our other control products in our online DIY automation store.
Adrian Biffen
Senior Partner
NodeSwitch™ Controls
We sincerely hope you enjoy our advanced technology products; if you have any questions, please contact us at any time!
Articles in this series:
Part 1: Z-Wave Group Control of Blind & Shade Motors: Introduction
Part 1A: Z-Wave & WiFi Blind Control: Cloning Motor Channels
Part 2: Blind Motor Quick Start Pairing With Your Z-Wave Hub
Part 3: Blind Motor Quick Start Pairing With Your WiFi Network
Part 4: Welcome to the WiFi Home Page
Part 5: Understanding the Controller Settings (you are here)
Part 6: WiFi Slider Control for Motorized Blinds, Shades, and Window Openers